CARRIER RESOURCES
We continue to grow in this challenging environment and have proven to be a highly capable and trusted name in the Logistics Services business. Our Carrier Services Unit will help you become an authorized Set Global, Inc. carrier. We contract loads of dry, refrigerated, flatbed and LTL shipments. So whether you are an owner-operator, mid-size or larger fleet, Set Global, Inc. wants to work with you.
To qualify to become one of our carriers, contact the Set Global carrier services unit and follow the instructions you are given. Be prepared to undergo an inspection that tests for quality. You can reach us via phone: 213-675-4674 or e-mail: mark@setglobal.net. For more information, click on the FAQ link to the right. FAQ
ADDITIONAL SERVICES
Innovative tracking system
Fair and timely payments
Reliable carriers
Competitive rates
Top-rated customer service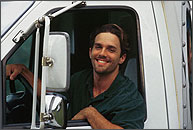 RATES AND TRANSPORTATION
With unbeatable Freight Transport rates and a proven track record, Set Global, Inc has an established reputation as Freight Broker that you can rely on!
As a shipper or carrier, become one of our partners today and take advantage of our superior Logistics services!
TRANSPORTATION SERVICES
Dry Van:
Set Global, Inc. can handle full truckload van freight from any point within the 48 US states. With thousands of carriers in our database, we can provide 48' and 53' trailers for whatever needs you may have as a hipper. Our Logistics department that handles Van Logistics can help your put together a program that satisfies your particular shipping needs. Our Van Logistics Department can handle your shipping needs. Whether your freight needs are one load every month or you have thousands of loads as a global 500 company typically does, Set Global, Inc will make sure your Freight gets to its intended destination. We Rely on communication to meet your logistics needs and our personal touch as a reliable Freight Broker Services provider will be key assets to building successful load shipping programs for both shipper and carrier.
Refrigerated:
Set Global, Inc. understands the delicate nature of refrigerated, temperature controlled and Frozen loads and we have built up quite an expertise at arranging such shipments. We specialize as a Logistics Service Provider in the all of the growing regions within the US. Our extensive carrier network will deliver your Freight to any point in the United States. Our track record in Perishable Freight Transport is equal to none! Every one of our brokers undergoes specialized training in transporting perishable freight. With our vast know-how in the Perishable freight Transport field, Tremendous carrier base, and commitment to service from start to finish,, we can put together a successful program to surpass your expectations as our valued customer!
Flatbed:
We have a dedicated Flatbed unit and we can provide Logistics Services for any size customer. If your shipping needs require standard flatbed trailers, or specific equipment to tackle over-dimensional and over-weight loads, Set Global, Inc's. Flatbed Unit will handle the job. FAQ