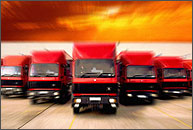 ABOUT US
We are a licensed freight broker, specializing in providing freight services, logistics services and as a third-party transportation broker and freight forwarder. based in Los Angeles, Set Global Inc. works with shippers and carriers across the nation to arrange the transportation of dry, refrigerated (specializing in produce), and flatbed freight! Additionally, we transport LTL and full truckload and intermodal.

Since opening our doors, we have always earned an exceptional reputation as freight broker among shippers and carriers, exceeding expectations on even the most challenging projects. For this reason, we have experienced phenomenal year over year growth since opening our doors. We pride ourselves on our 300% growth rate over the last 2 years, amidst the worst economic downturn since the great depression! It's safe to say that we will continue to thrive in the shipping industry. Our central goal is to continue our tremendous growth by providing phenomenal services to all our clients and working partners. Whether you're in Appliance Repair or Frozen Food, we have the equipment and the know-how to take care of you the right way from start to finish!
WHAT WE OFFER
We are 100% focused on you and will provide you with all the services you need to get your load from point A to point B on time.
Our tracking capabilities will allow you the peace of mind to know where your load is at all times! But don't worry, we monitor the entire process so you don't have to!
Whether you need to transport dry or refrigerated freight, you need it on a flatbed, LTL or full truckload, Your load is guaranteed delivered on-time!
We will help you select the most cost-effective solution, even if it means we don't make as much money!
We only partner with the best carriers in the business. Everyone must undergo a very intense qualifying inspection. But we don't stop there! In order to continue giving you top quality service, we monitor each carrier with regular and random inspections. So rest-assured, your load will there safe and on-time!
We have the best customer service in the business so you'll never be left in high water with us!

SET GLOBAL
OUR LOCATION
110 E 9th. St. Suite C-843
Los Angeles, CA 90079
CONTACT INFORMATION
P. 213-210-1445
F. 213-624-4488
E-mail:mark@setglobal.net
HOURS
Monday-Fri
9:00am-4:00pm
Feel Free to give us a call and chat with one of our friendly customer service representatives.